Tri-Cities Committee Wiki
Jump to navigation
Jump to search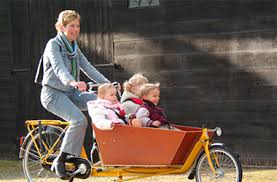 Meeting agendas and minutes
Committee priorities in our 2023 Action Plan
Improve our relationships with municipalities.
Improve committee focus.
Improve our integration with the community.
Details here: 2023 Action Plan
Previous efforts: 2022 Action Plan
HUB and the Tri-Cities + BeAn Local Committee
HUB is an organization in the Greater Vancouver area whose mission is to get more people cycling more often. HUB's main office is in Vancouver, but we do advocacy all over the GVA. HUB has volunteer Local Committees in most GVA locations.
The Tri-Cities, Belcarra and Anmore Local Committee of HUB works specifically in the Tri-Cities (Port Moody, Port Coquitlam and Coquitlam), plus the villages of Belcarra and Anmore.
The challenges of bike advocacy in the Tri-Cities + Belcarra + Anmore
Bike advocacy in the Tri-Cities is tricky, because there are a lot of different governing bodies that make decisions about cycling infrastructure out here. Coquitlam, Port Coquitlam and Port Moody have separate municipal governments and engineering staffs, with different sets of priorities. The villages of Belcarra and Anmore, two very popular cycling destinations, are in the picture too. The provincial government's Ministry of Transportation Infrastructure (MOTI) manages some of our most critical bike connections, such as the Pitt River and Port Mann bridges. Finally, Metro Vancouver plans and maintains bike infrastructure in Metro parks, such as the Sheep Paddock Trail in Colony Farm Regional Park.
Having all these distinct groups involved in cycling infrastructure has created a tendency towards infrastructure that peters out as it meets the limits of the current jurisdiction. The HUB Tri-Cities Local Committee is focused on counter-acting this tendency, and creating as much integration and cohesion as possible. Very few of us spend all their cycling time in just one city, on routes that just one organization plans and maintains. We travel around the Tri-Cities and the region all the time. We need usable and connected infrastructure that goes everywhere.
Tri-Cities Committee's Top Ten Gaps Map
HUB's UnGap the Map campaign focuses on fixing the worst problem areas to create a connected cycling map. Here are our committee's Top Ten gaps.
View the actions we've taken to close the gaps in 2023 here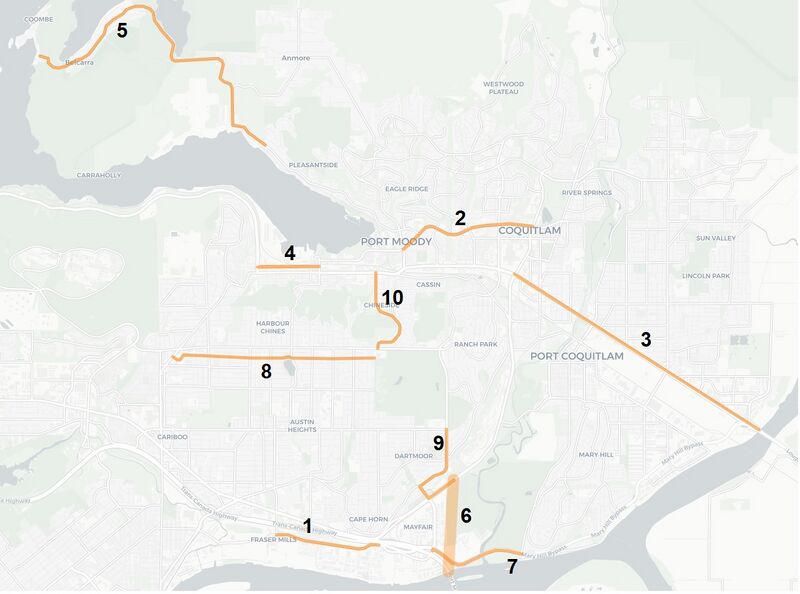 Braid Station to the Port Mann Bridge via United Boulevard, Coquitlam.
Let's extend the Central Valley Greenway all the way to the Port Mann Bridge. We are seeking a multi-use path or protected bike lane along the north side of United Boulevard connecting to the existing multi-use paths at Fawcett Road to the east and the King Edward overpass to the west. United Boulevard, King Edward to Fawcett
Guildford Way, Pinetree Way to Ioco Road.
This stretch is well served for confident grownups, but none of us is going to ride there with our kids anytime soon. It connects two Skytrain stations, many schools, two civic libraries, two city halls, multiple recreation complexes, multiple parks. It is also an existing gap on the TCT/ Great Trail. Our ask is for a protected bike lane on both sides.
Pitt River Bridge to Coquitlam Center/ Lincoln Station, PoCo/ Coquitlam. A route is coming between the dike trail along Kingsway into downtown PoCo, and along Lougheed from Westwood to Shaughnessy, but there's still a few gaps left to fill in! Lougheed Highway, Port Coquitlam
Clarke Street, Port Moody. Let's connect the Barnet Highway to Rocky Point Park and Moody Central Station! Port Moody Commuter Route
Alderside to Sasamat Lake/Belcarra Park. Let's create a connection to Sasamat Lake. Regional Greenway Plan 2050 has also identified the Sasamat Greenway gap. Our ask is for a multi-use path with routing to be determined. Media:Sasamat_Greenway_Map.jpg
Colony Farm Road at Lougheed Highway to the Port Mann Bridge, Coquitlam. This important transportation route would link the existing bike route along and beside Lougheed Highway from Coquitlam Central to Surrey. Let's create a great bike connection here! We're pushing for a connection from the end of the Sumiqwuelu pathway to the Port Mann BridgeMedia:Watermain_route_for_public.pdf | Lougheed Highway (near Riverview) | Lougheed Highway and Pitt River Road | United Blvd,Northern section
Mary Hill Bypass from Shaughnessy to Port Mann Bridge. We are seeking a protected route from Argue Street to United Boulevard, connecting to Maquabeak Park as well as the Port Mann Bridge and United Boulevard multi-use paths. This is crucial for connecting the Traboulay Trail to the Port Mann Bridge. Coquitlam River Bridge
Regan / Smith Avenue, from Mundy Park to Burquitlam Station
Mariner Way at Austin Avenue south to Lougheed Highway at Colony Farm Road
Moray Street from St. Johns Street to Como Lake Avenue, by either Thermal Drive or Baker Drive
Getting on our email list
Join our MailChimp here http://eepurl.com/hJ8KCT.
Important Links
How to get edit privileges for this wiki
To modify pages, please request an account by contacting action@bikehub.ca.
Getting started with editing the wiki
These pages use MediaWiki markup. You can find out how to MediaWiki here: [1], or just check out the source text for existing pages to get some idea of how to do things.