Tri-Cities Upcoming Projects
Jump to navigation
Jump to search
Return to Tri-Cities Committee Wiki
Click the map to get to an interactive version!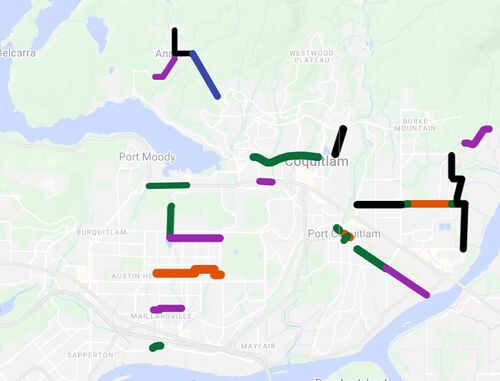 Please note: this list only covers projects funded by municipalities and governments. Projects built through property redevelopment are not shown on this list. For information on all civic projects, please check municipal websites. In addition, due to changing project schedules, projects are often subject to delay
2022 projects are in green
2023 projects are in purple
2024 projects are in black
2026 projects are in royal blue

Coquitlam
2022:
Guildford Way interim protected bike lanes from Pinetree Way to the Port Moody border
United Boulevard multi-use path from King Edward Overpass west to existing terminus near New Westminster
Gatensbury Street multi-use path from the Port Moody border to Regan Street
New Strategic Transportation Plan
2023:
Regan Avenue multi-use path from Gatensbury Street to Wilmot Street
Barnet Highway eastbound protected bike lane from Falcon Drive to Bond Street
Maillardville Greenway along Cartier Avenue from Schoolhouse Street to Marmont Street, then down Marmont Street to Quadling Avenue and west to Nelson Street
Cedar Drive multi-use path from 4180 Cedar Drive to Gilley's Trail
2024:
Pipeline Road multi-use path from David Avenue to Guildford Way along the west side, with new pedestrian lighting
Fremont Connector and adjacent multi-use path

Port Moody
2022:
St Johns Street multi-use pathway from Moody Street to Barnet Highway
Trail Network Plan, including expansion, classification, standardization of signage, and more

Port Coquitlam
2022:
Donald Street Pathway between Wilson Avenue and McAllister Avenue
McAllister Avenue footbridge over the Coquitlam River (built to 4m width)
Kingsway Avenue multi-use path between Tyner Street and the Coast Meridian Overpass
Prairie Avenue multi-use path between Fremont Street and Burns Road
Prairie Avenue multi-use path between Toronto Street and Coast Meridian Road
2023:
Kingsway Avenue multi-use path between the Coast Meridian Overpass and the dikes
2024:
Prairie Avenue multi-use path between Coast Meridian Road and Shaughnessy Street
Fremont Connector and adjacent multi-use path

Belcarra
No projects funded.

Anmore
2023:
Sunnyside Road multi-use path between East Road and (roughly) 2014 Sunnyside Road
2024:
East Road multi-use path between (roughly) 2285 East Road and Sunnyside Road
Sunnyside Road multi-use path between East Road and Alpine Drive
2026:
East Road multi-use path between (roughly) 2285 East Road and 1343 East Road