North Shore Committee Wiki
Revision as of 08:59, 30 January 2020 by
imported>Dpiercy
Jump to navigation
Jump to search

The North Shore committee of HUB: Your Cycling Connection is dedicated to enhancing the safety and feasibility of using bicycles for transportation in North Vancouver, West Vancouver, Bowen Island and Lions Bay. This includes commuting to work and school, shopping, personal trips and any other short to medium length journeys.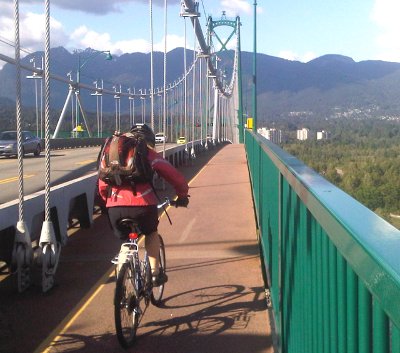 About HUB on the North Shore
Goals
We will present to West Van District Council on February 10, 2020
Full list that we considered a list of them at our January 9, 2020 meeting.
How to participate
Participating in HUB on the North Shore is as simple as joining us at our monthly Meetings, volunteering at Bike to Work Week stations, or joining us at various community events. Most importantly, get on your bike and ride!
You can also participate by joining our free email list: https://hubcycling.groups.io/g/NorthShore
Or following us on Twitter: @HUBnorthshore
Or on Facebook: https://www.facebook.com/groups/410485983182968/
HUB North Shore's committee has Liaison teams to each of the 3 municipalities, MoTI and other external organizations. We also have sub-committees for communications and Events (such as bike to work week). More details on the Committee Organization and Roles
Meeting agendas and minutes
HUB North Shore meets at 6:30pm on the second Thursday of every month at the North Vancouver City Library in the 2nd floor meeting room. For the next meeting date and agenda, and for information on past meetings, please refer to the Meetings page.
If you have any questions or comments that are not answered on this site please send email to northshore@bikehub.ca.
HUB North Shore Letters & Documents
The North Shore Committee's communication with local governments, the province and other organizations is archived here.
Other letters and presentations
In the News
Read about HUB North Shore on our In the News page.
Who to contact for street maintenance
City of North Vancouver
Check City map whether street is City or District

Email: cycling@cnv.org
Phone: 604 983 7333
App: CNV CityFix
Notes from Meetings with City of North Vancouver Staff
District of North Vancouver
Check City map whether street is City or District

Email: eng@dnv.org
Phone: 604 990 2450
The District of North Vancouver is also responsible for maintaining paths and sidewalks in MoTI jurisdiction, including Mount Seymour Parkway bike path, ramp between Fern St and Orwell St
Contact for Construction Zone issues for cycling

Name: Julia MacKenzie - Construction Traffic Management
Email: mackenziej@dnv.org
Phone: 604-990-2466
District of West Vancouver
Phone: 604 925 7100 (24 hours)

Path from Curling Rd through Klahanie Park and under Marine Drive to Lions Gate Bridge sidewalk is maintained by West Vancouver
Welch Street and the Spirit Trail through the Squamish Capilano Reserve are maintained by West Vancouver
Ministry of Transportation and Infrastructure (MoTI)
Miller Capilano Highway Services Ltd carries out maintenance for MoTI

Phone: 1-866-918-1010 (24 hours)
Email: info@millercapilano.ca
Miller Capilano's responsibility includes:

Ironworkers Memorial Bridge (IWMB) and Lions Gate Bridge (LGB) sidewalks
Main St on-ramp sidewalk to IWMB
Dollarton off-ramp sidewalk from IWMB
Switchback path from IWMB to Skeena St/Vancouver
Path from IWMB to Fellowes St/Vancouver
Marine Dr on-ramp sidewalk to LGB
Stanley Park Causeway sidewalks
Upper Levels Highway
Separated path along south side of highway in Pemberton Heights (Pemberton Ave to Westview exit)
They are NOT RESPONSIBLE for path behind barriers on north side of highway west of Capilano River bridge (West Van); path around Lions Gate Bridge cloverleaf (West Van); any other bike paths and sidewalks along MoTI roads EXCEPT the bridges, bridge ramps and the causeway; all other paths and sidewalks are municipal responsibility
City of Vancouver
Phone: 311

App: VanConnect
Vancouver is responsible for maintaining the Cassiar Bikeway to Ironworkers Memorial Bridge, the path from the Cassiar Bikeway to N Skeena St, the N Skeena St sidewalk through the tunnel, and for vegetation trimming along the Stanley Park Causeway
Resources
North Shore bike map
The pdf version of the August 2018 edition is available for download on the HUB website . Hard copies of the pocket folding map are available at Libraries, Municipal Halls and at our Meetings & Events.
Routes & short cuts
Our Routes and Short Cuts page lists a few routes commonly used by to get around the North Shore.
Hot spots
Our Hot Spots page lists specific locations on the North Shore that need attention for advocacy. If you're a rider who has recently encounter a Hot Spot please see if it is listed and, if not, submit it for inclusion in the list. Note: This page is old and needs an update or should be deleted.
Frequently Asked Questions
Are you new to riding the streets of the North Shore? Browse through our Frequently Asked Questions page for information and tips about riding in our beautiful area.
Governments & other official entities
The development of policy and infrastructure for cycling on the North Shore usually involves the cooperation of several governments and agencies. For more information please refer to our Governments and Other Official Entities page.
How did municipal politicians vote about cycling? Check out the voting record of the councils of North Vancouver (City and District) and West Vancouver.
Bike Friendly Business
The following list provides links to research and data on the economic impact of cycling, especially on retail. For business resources and support in Metro Vancouver, please visit HUB's Bike Friendly Business Program.
Retail
Economy overall
Cost-benefit analyses
Other resources
Here you will find links to various online resources that contain useful information about cycling rules, etiquette and the development of improved cycling facilities.
Wiki access
This wiki is read-only to all users. To modify pages, please request an account by emailing ellie@bikehub.ca.