MoTI-Gaps
Revision as of 22:00, 4 May 2021 by
imported>Dpiercy
Jump to navigation
Jump to search
In early May of 2021 MoTI reached out to HUB North Shore. They asked us to contribute to the Ministry of Transportation and Infrastructure Cycling Infrastructure Gap Assessment Project:
The Province is committed to making cycling a safe, convenient, and comfortable form of transportation for people of all ages and abilities across British Columbia. To support this work, the BC Ministry of Transportation and Infrastructure (MoTI) is looking to develop a master list of regionally significant cycling gaps on MoTI infrastructure in each sub-region within the South Coast Region (from the Sunshine Coast, across Metro Vancouver to the Fraser Valley). For this project, a regionally significant cycling gap is on MoTI infrastructure and decreasing regional connectivity for cyclists between urban centres. With the support of Urban Systems Ltd., MoTI is working with agency partners across the region to identify these gaps and reconcile the information with stakeholder priorities. The list of regionally significant gaps within each sub-region will be used to assist MoTI with selecting new cycling infrastructure projects when opportunities and funding become available.

HUB has been asking MoTI to do this for a long time. We need to assemble our list and share it with them at a meeting on May 13th. This input is CRITICAL as this master list will probably guide MoTI's budget and infrastructure building for the next 5-10 years. We MUST make sure that the right gaps are at the top of the list. We have started to compile our list and need to ensure it is complete and discuss our priorities for these gaps. Note that a GAP can be either a section along either Hwy 1 or Hwy 99, OR a crossing/intersection on either of these highways. The Gaps are limited to only those under MoTI's jurisdiction, which for the North Shore is the 2 highway corridors and 1st & 2nd Narrows Bridges.
We have started compiling a list based on our submission last summer to MoTI's North Shore Hwy 1 corridor study
We have an interactive map showing the currently identified gaps. If you click on one it will provide a description of the GAP.
There is also a table listing them.
This is a Map from the 2020 State of Cycling project. It show all the MoTI cycling segments on the North Shore, colour coded by comfort level (for Most/Some/Few/Very few)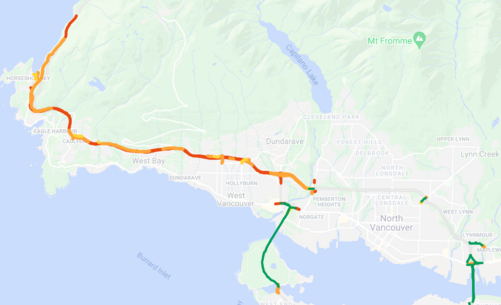 Currently this is a work in progress and will be discussed at our Committee Meeting on May 6th.



As you know cycling in not permitted on the Hwy 1 shoulder though most of North Vancouver. So far our north Van list is thus only list the crossings. I have been thinking about the and if MoTI should be responsible for providing cycling infrastructure along the whole corridor. Cycling on the shoulder, or even a protected path next to the highway would not be very pleasant. Please review the following and let me know what you think of these guidelines for MoTI:
We believe that MoTI is responsible to ensure that there is a complete, direct, end-to-end cycling option along ALL of it's Transportation corridors based on <List of MoTI strategy/goal/mission statements>. This does not mean the routes must be within the current transportation RoW, They may incorporate segments built on adjacent municipal land. These cycle routes along MoTI's corridors ,"bikeways", are key as they generally provide the most direct long distance routes though the regions and are important arterial cycling routes.

These bikeways must be safe and desirable to all potential cyclist. Thus we recommend they consist of (in order of preference):
Dedicated a "Bike Path" parallel to, but well separated from vehicular highway traffic in the corridor. Separated by either sound wall or green-space, but still within 50m of the corridor. This could also be a "Neighbourhood Street Bikeway" located on an adjacent quiet residential street. "Comfortable for most"

A "Protected Bike Lane" adjacent to the vehicular highway, but separated by a vertical barrier. "Comfortable for some". Recognizing that often the Highway will provide the only crossing of rivers or major ravines.

"Bike Accessible Shoulder" are only "Comfortable for few" and thus should not be used.
The most comfortable solutions will most often be build outside of MoTI's corridor RoW, but we feel that it is still MoTI's responsibility to ensure these are build (working with municipalities and where necessary helping to fund these projects) AND to ensure that they connect well to the segments & crossings that MoTI builds. In urban areas, the vehicular component in these transportation corridors is generally a busy, multilane, divided highway which these restrict pedestrian & cycling cross-traffic, thus cycle crossings must be provided at regular intervals.

Some of these will be dedicated pedestrian & cycle crossings (Tunnels & overpasses) and must connect seamlessly to the cycle routes paralleling the corridor. They must be cyclble and designed to be used safely without baffles/maze gates/bollards and other blockages that endanger cyclist. "Comfortable for most" Crossings at interchanges, must connect well to the cycle routes paralleling the corridor. As they will have multiple crossing of vehicular traffic lanes, the intersections must be "Comfortable for most" following the principals outlined in the BCATDG section X and NATCO's don't give up at the intersection. The highway crossing segments must include Protected Bike lanes.

In summary MoTI is responsible for ensuring there is an end-to-end "comfortable for most" cycle route along both sides of all its transportation corridors. It must work with the adjacent municipalities to implement this in the safest and most desirable fashion and to make sure it connects well with Municipal cycling networks.
Thanks