2020-Summary
Revision as of 12:30, 5 March 2021 by
imported>Antje Wahl
Jump to navigation
Jump to search
2020 was certainly a year to remember.
By Don Piercy, Chair, HUB Cycling North Shore Committee
COVID-19 impacted everyone in so many ways, including cycling.
COVID placed restrictions on many of our normal activities, but fortunately getting out on a bike was one of the few that was not. Dr. Bonnie Henry repeatedly encouraged people to get out and cycle. The uptake was easily seen in the long waits for bike repairs, limited or sold our stock at bike shops and most importantly, lots more people out cycling. Councils and municipal staff took note. We saw several quickly launched experiments for "slow streets" and other efforts to enable/encourage people to get out on their bikes.
In addition, municipalities made concrete progress toward the creation of a "Comfortable for Most" cycling network on the North Shore.
Back in 2019, HUB North Shore made delegations (presentations) to the three North Shore Councils. We recommended a multi-year investment in the construction of a network of safe and appealing bikeways, starting with HUB North Shore's three priority bikeways below (pink lines):


This past year we saw both the City of North Vancouver & District of North Vancouver proposing prioritized, multi-year cycling infrastructure building programs. West Van implemented a "Slow street" experiment and is now looking into making an enhanced version permanent and expanding it to cover more slow streets.
In addition, 2020 saw the completion of a fair number of cycling infrastructure projects. Some were major and included key portions of our priority bikeways, while others were short stretches, often disconnected (generally these were "opportunistic", taking advantage of redevelopment or other projects to build cycling infrastructure cheaply).
Here's a full list of North Shore infrastructure projects completed in 2020.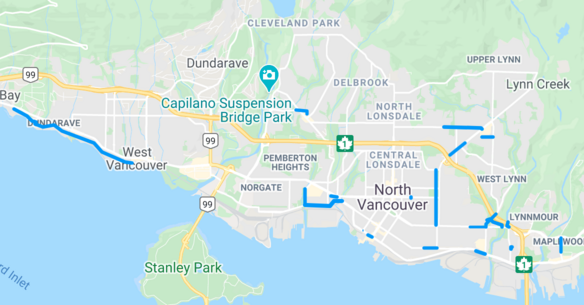 Click on the Map to explore an interactive version with more information.
Overall, from the perspective of cycling on the North Shore, 2020 was a pretty good year, with some great new infrastructure. Looking forward 2021 looks like a good year. Increased funding for active transportation from Federal and Provincial governments combined with municipal implementation plans, gives us high hopes.