2020-11-12 Agenda
Jump to navigation
Jump to search

HUB North Shore Committee holds regular meetings at 6:30pm - 8:30pm on the second Thursday of every month. Everybody is welcome. Our October meeting we will be an online conference call using https://join.me/902-611-379 . You can also phone in (audio only) at +1.778.654.8779,,902-611-379 #
Agenda additions
Introductions
General
Schedule Meetings with North Shore MLAs - Don

Nov-27 with Susie Chant (Eastern N Van) - Giacomo & Don

Updating the MVA to a Safe Roads Act.
eBike incentives
She will be focusing on Youth & mental health - was interested in HUB's Bike education programs.

Climate Caucus - Councillor's Handbook - Fiona
City of North Vancouver - Erika/Heather
eBike Pilot Project

Council approved a two-year pilot of an ebike share in the City. The project was originally all three municipalities, but they could not find a vendor who would bid under the original conditions. New parameters have been developed which include Geo-fencing for return on bikes to designated spots. The City is putting up $50,000 to develop the places where bikes can return to. Otherwise, the service provider must absorb all costs. The contract is going out to bid shortly and it is likely that we will have an ebike share service on the ground early spring. If the pilot is successful, then other munis may follow suit.
Open Streets Survey

The City is asking for feedback on their Open Streets project. It is worth participating because they will be looking at expansion or contraction.
Key street in central Lonsdale is Lonsdale and there is no room designate for bikes there. If you fill in the survey and you think a bike lane would be good, please make that comment. They are also asking for where more open streets might help. 17th and St. Andrews were good for bikes, but not for pedestrians. Maybe a more continuous barrier would help pedestrians feel safer. https://letstalk.cnv.org/open-streets-in-the-city/survey_tools/open-streets-feedback
Ridgeway Speed Reductions

The city will expand the existing 30km/hr speed zone around Ridgeway School to include local streets throughout the broader Ridgeway neighbourhood.
Esplanade Update

Community engagement starts November 16th. Detailed design in winter and more engagement winter-spring 2021 Construction to begin in summer/fall 2021
1st Street

The painted lines are in and parking was prohibited, however no parking signs are no longer posted so cars are parking in the bike lane. We are talking to staff tomorrow to find out when the flex posts will be installed and will report back. The pinch point at Fell is gone.
Casano Loutet Overpass

Construction to begin January 2021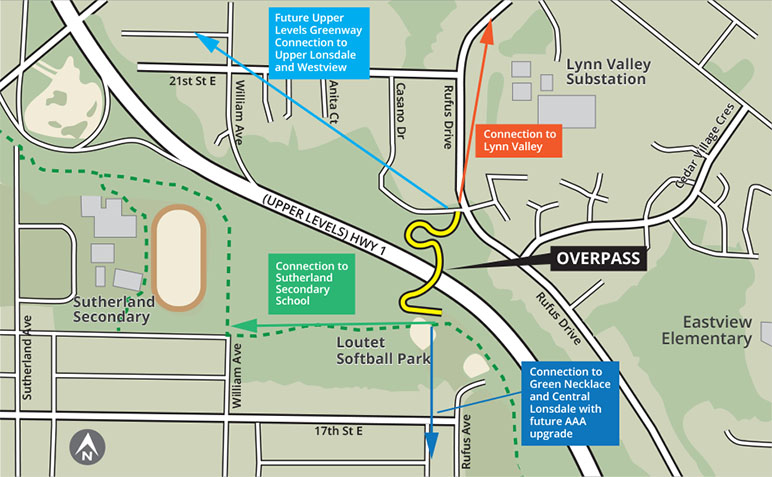 East Keith

Meeting with staff tomorrow to discuss the pinch point at Heywood on the south side of East Keith Road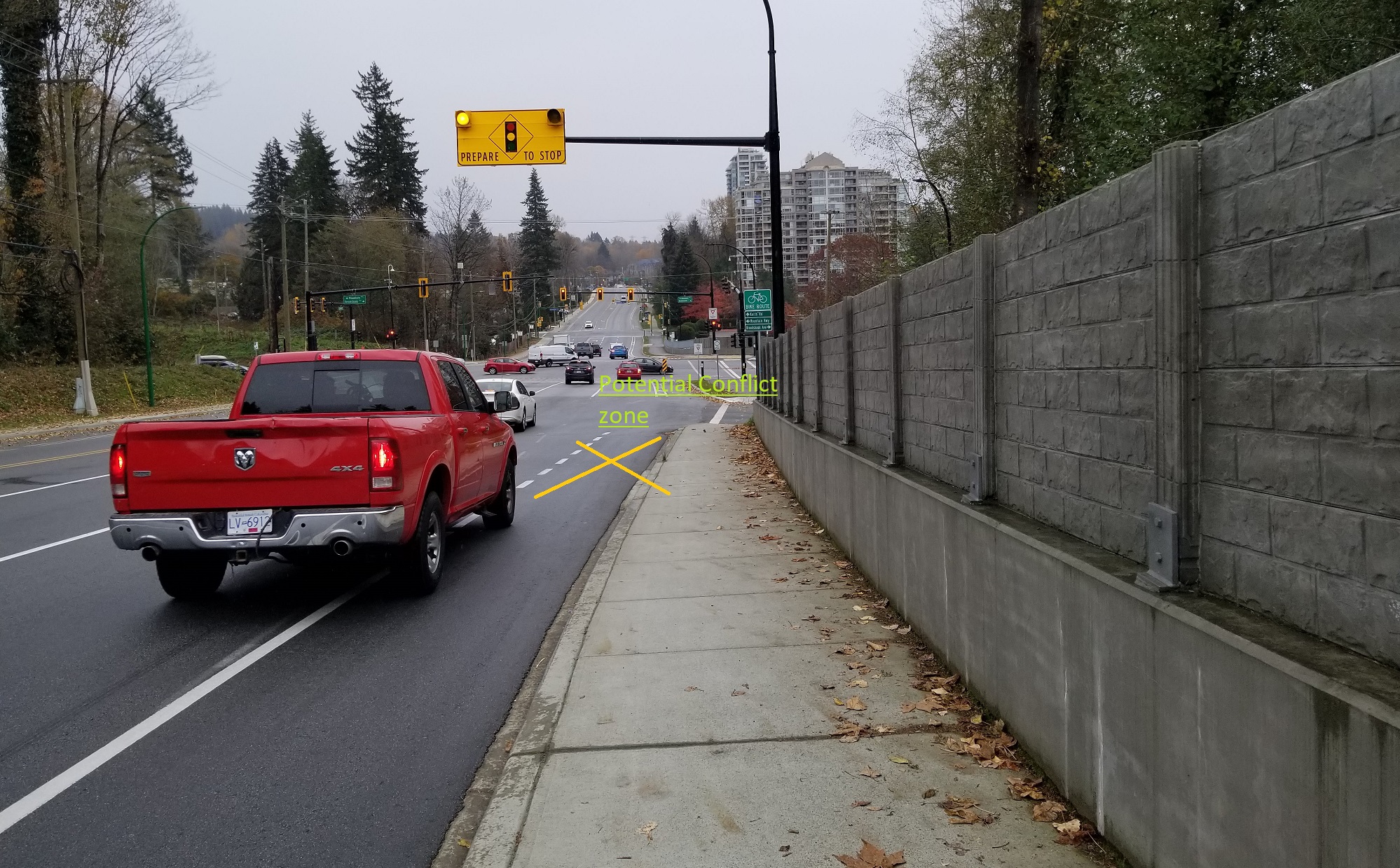 Phase 1
1st Street (in construction now)
Casano-Loutet overpass (construction starts in Jan)
Jones
Phase 2
Esplanade (public consultation)
Midtown Connector to Casano Loutet bridge - 13th to Boulevard then up to 17th?
Upper Levels Greenway East
Phase 3
St. Davids
Chesterfield 13th down
Upper Levels Greenway West
District of North Vancouver - Don/TBD
2020 Transportation workshop - Nov 9th

staff proposed a multi-year implementation plan to Council for approval

7of 15M$ will be District money, rest from grants

More of the transportation budget is allocated to Alternative Transportation than roads/cars going forward - to address the deficit of alternative infrastructure.

Generally aligned with our priorities, though not completely. Requested staff try to reprioritized some of the plan.
Also some of the Key sections in Town Centres is dependant on Future redevelopment, which will leave gaps, especially in Lynn Creek TC.

2021 Plan:

Tatlow+W15th

Ruffus/Kirkstone and Brooksbank to connect to Casano/Loutet overpass

Hunter street bridge in Lynn Creek TC
Steep MUP from Deep Cove to Parkgate via Indian River neighbourhood
Upper LV Road from TC to Peters

also budget for missing Wayfinding signage

Other

Plastic post have been installed on East 29th.
DNV Priority Bike Network Engagement

The received over 1808 submissions to the survey.
Should be published in next week or so.
Key points:

82% Cycle (vs 89% drive, 72% walk and 34 use public transit)
42% cycle 3+ times a week, 30% 1-10 times a month
77% exercise, 75% rec, 47% commute, 42% utility (shop, ...)
Reasons not to cycle: #1 Safety, #2 Incomplete network
Feel safe? 21% yes, 27% neutral, 50% NO (16% strongly)
Cycle more: 79% continuous route, 50% good surface, 45 secure parking
Safety concerns 47% separation, 22% collisions, 14% dooring,
Comments - most common: Protected/separated (529)
District of West Vancouver - Paul/Peter
Update on cycling infrastructure plans in DWV - see letter to the new director of Engineering & Transportation Services at: http://wiki.bikehub.ca/northshore/images/a/a6/2020-11-10_email_to_Ms_Moller.pdf

Marine Drive eastbound protected bike lane: Lions Gate Bridge northbound terminal to DWV municipal boundary. We understand that this project, a top priority for HUB North Shore, would be carried out jointly with DNV which already has the funds available on its part.
Welch St Bridge approaches: With shared cost funding with the District, we understand that Park Royal plans to begin the widening the pathway on the south side of the bridge in early 2021. Important to the success of the widening are the access arrangements at each approach and exit, as well as the correct configuration of the vehicle lanes and sharrows. We understand that the District is responsible for the design of the approach at the east side of the bridge.
Marine Drive, Taylor Way, Park Royal area bike network connections: Consistent with Park Royal's existing (and forthcoming) mobility network plans and DWV bike network plans are the following:

Protected bike lanes along the perimeter of the Park Royal's Gateway Residences development adjacent to Marine Drive and Taylor Way.
Connection along Taylor Way from Park Royal's Gateway Residences development to the Spirit Trail and the Welch St Bridge western access.
Protected bike lanes on either side of Marine Drive between Taylor Way and the two bridges over the Capilano River
Safer connections for cyclists crossing the traffic signaled intersection at Marine Drive and Taylor Way.
An alternative bike path to the Ambleside Spirit Trail through Park Royal property to Pound Road and continuation on the south or north side of playing fields to 13th St.
A proposed route westbound from Taylor Way along Marine Drive to the next signaled intersection.

Ambleside Spirit Trail: Completion of the separated bike path from 13th to 18th Streets.
Strategic Transportation Planning: Consultation with HUB North Shore on updating and improving the District's bike network.
Hwy 1/99 protected bikeway: Haddon Drive to Westcot Rd together with improvements for active transportation at Taylor Way interchange terminals.
Development of 'Slow Street' circuits in Ambleside and Dundarave: Connecting elementary and secondary schools, parks and municipal buildings based on the experience of the 2020 Bellevue Slow Street pilot project:

Bellevue between 18th and 25th, - one or more diversions to motorized traffic to slow down through traffic.
Slow Street circuit #1 including Belleek, 14th St, Mesquite, Haywood, and 25th St.
Slow Street Circuit #2 including Belleek, 13th St, Keith Rd, 12th St, Kings, Jefferson, and 25th St.

Horseshoe Bay: Bike lanes on Royal Avenue and Bay Street.
Upper Levels Bikeway: Bikeway from Westcot to Horseshoe Bay on the north side of Hwy 1/99, including item 6 above and coordination with DNV and MoTI on Hwy 1/99 Capilano Bridge improvements for cycling. This is an important connection between West and North Vancouver Districts.
Capilano Pacific Trail: Consult and monitor Metro Vancouver's plan to improve the Capilano Pacific Trail north of Clyde Avenue.
Wayfinding Signage: HUB North Shore input is required on John Calimente's plans for wayfinding signage north from Keith Road and east of Taylor Way.
MOTI - Antje/Don
Lower Lynn - Monthly meeting

Phase 3 - Construction around Main St and the Ironworkers bridgehead

Good news on path width at Dollarton ramp crossing: the design variance on the reduced ramp width to accommodate a 4m refuge area between the ramp and Main St was approved
Still some issues with the detour signage. New signs were ordered (too late).
Phibbs Exchange work to start in spring

Phase 1, 2 and 4 - Mountain Hwy and new ramps and bridges

Jay Porter sent updates today. We haven't reviewed or discussed yet.

Hwy 1 North Shore Corridor Study Lynn Valley to Horseshoe Bay

Waiting for draft report. Antje will follow up tonight.

Taylor Way interchange

Several issues raised by West Van resident. No response by either MOTI or resident. Antje to follow up.
Communications & Outreach - Heather/Antje/Paul/Giacomo
New comms team will hold first meeting soon
Goals & Objectives
Review of our progress/lack towards the goals in 2020

Implementation of 3 top priority Bikeways

Analysis of current state all segments of the 3 Bikeways and next steps for each
will be added to UnGap the Map database

Establish communications with community stakeholders re Bikeways.

Set-up meeting with West Van Chamber of Commerce & Ambleside Dundarave BIA - On Hold
Prepare message to share with NS Cycle clubs/organization

initial brainstorming on Goals for 2021